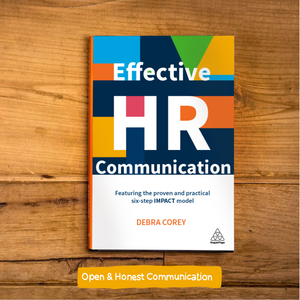 Effective HR Communication: A Framework for Communicating HR Programmes with Impact by Debra Corey
Considerable time and energy go into the design of an HR program but, typically, not as much energy is devoted to the project's presentation to employees, stakeholders, and customers. 
From Debra Corey, co-author of Build it : The Rebel Playbook is her first book, a powerful and practical model for HR Communications.
Meeting the need for HR and internal communications professionals to master how to turn sometimes dry material into an interesting and engaging message for employees while also articulating the business/financial benefits to senior management, Effective HR Communication proposes a 7-step model for planning, launching, and measuring the success of a communication campaign.
Debra Corey tackles new areas that are transforming communications campaigns including how to use and embrace technology as a medium for effective communication, how to understand the needs of target audiences in multi-generational and multi-cultural workplaces, and how to communicate in a global context. In addition, she presents case studies to practically spell what works and what does not work.
---
Share this Product
---
More from this collection