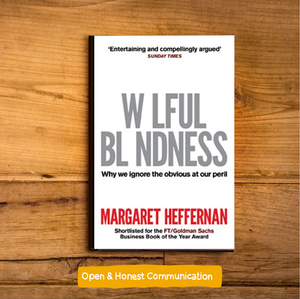 Wilful Blindness : Why We Ignore the Obvious at Our Peril by Margaret Heffernan
Serial CEO turned academic and author, Margaret Heffernan shares her research on silence.
In the 2006 case of the US Government vs Enron, the presiding judge instructed the jurors to take account of the concept of wilful blindness as they reached their verdict about whether the chief executives of the disgraced energy corporation were guilty. It was not enough for the defendants to say that they did not know what was going on; that they had not seen anything. If they failed to observe the corruption which was unfolding before their very eyes, not knowing was no defence. The guilty verdict sent shivers down the spine of the corporate world.

Bridge Link
Wilful Blindness is recommended reading for Build it readers wanting to go deeper on Open & Honest Communication.
In the book
In this book, distinguished businesswoman and writer, Margaret Heffernan, examines the phenomenon of wilful blindness. Drawing on a wide array of sources from psychological studies and social statistics to interviews with the relevant protagonists she examines what it is about human nature which makes us so prone to wilful blindness. Taught from infancy to obey authority, and absorbing the importance of selective vision as a key social skill, humans exacerbate their tendency to become institutionalised by joining organisations which are run by like-minded people. She looks at how hard work and the information overload of the modern workplace add to the problem. And she examines why whistleblowers and Cassandras are so very rare.

Ranging freely through history and from business to science, government to the family, this engaging and anecdotal book will explain why wilful blindness is so dangerous in the globalised, interconnected world in which we live, before suggesting ways in which institutions and individuals can start to combat it. In the tradition of Malcolm Gladwell and Nassim Nicholas Taleb, Margaret Heffernan's thought-provoking book will force open our eyes.
Endorsements
"Wilful Blindness" is an engaging read, packed with cautionary tales ripped from today's headlines as well as a trove of research on why we often stick our head in the sand. With deft prose and page after page of keen insights, Heffernan shows why we close our eyes to facts that threaten our families, our livelihood, and our self-image -- and, even better, she points the way out of the darkness."
Daniel H. Pink, author of Drive and When
Not a reader? Watch this instead : 
---
Share this Product
---
More from this collection